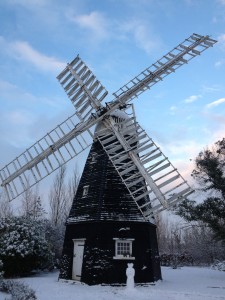 Northfield Windmill
, also known as Shade or Townsend Mill, is a small hexagonal smock mill, understood to have been built as a fen drainage mill in the 18th Century. It was later (~1834) moved to its present site, raised on a brick plinth up to three storeys and converted to grind corn. Inside, much of the machinery is intact, including the windshaft, wallower and main shaft. The great spurwheel on the ground floor drives two grinding stones on the stone floor.
The mill was 'restored' with an English Heritage grant in the mid-90s with new weatherboarding, cap and sails (with one third shutters) but has never turned due to distortion of the cap/curb. In turn the last owners agreed for the fantail to be removed for safety. Over the years, the cap deformation has generated serious leaks and bird ingress causing deterioration of the internal beams.
Since taking ownership in mid-2012 an 'emergency works' schedule has been started, aided by a small grant from East Cambridgeshire DC. Future works include removing the sails for assessment and refurbishment, repairing the cap/curb and in time restoring the mill to 'working' order.
Much of the information on this site has, and is being pieced together from various sources who have kindly assisted us in doing so. As we gather more information it may change over time. If you have any stories or history to add, or think there may be an error please do let us know via the Contact page.